New exclusively from BbTALKIN USA, introducing our foam pads designed for our helmet speaker pad headsets and surf hat (only compatible with new heather grey surf hat).
IMPORTANT: These pads only work on new helmet headsets and heather grey surf hat with the soft C shaped Velcro.  See the picture below: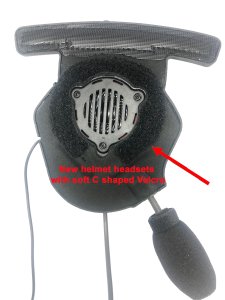 If your helmet speaker pads  or surf hat do not have this soft Velcro, you will need to purchase the new version to use the ear pads.
When you add these pads to your helmet headset or surf hat, they help keep the volume constant.  When you set your student up out of the water, once they are in the water and riding, the outside noise interference is less.  This is very helpful especially for coaching young students.
Comes in set of two.  Only works with the newly designed B02R, B03R, B01HR – heather grey color only.
SKU: EP2
C shaped paded foam.   The loop side is on the ear pad and the hook side is on the foam pads.