Two way communication package for your snow helmet with our new Bb 3.0 Standard units.
** Our Standard Units cannot connect to our Advance Units. 
This headset is an all in one speaker and clip on microphone set for your snow helmet. Our snow speakers fit perfectly into any snow sports helmet with build-in pocket ear pads.  The microphone can be clipped onto your helmet or jacket.
Weatherproof IPX5 (cannot be submerged in water)
PACKAGE INCLUDES:
x1: A02R – Standard 3.0 – 2 Piece Set
x2: BRSN1 – Snow Helmet Headset
** Package does not include helmet. 
WARRANTY:
From the date of purchase, the helmet speaker pads and all it's components are covered for 6 months. The Units are covered for 1 year from the date of purchase. Please see our warranty section for complete warranty details.
1. Use the alcohol prep to clean up the helmet surface. You must clean the surface of your helmet to insure the 3m tape will adhere to the surface. The 3m tape will not adhere to rubber surfaces.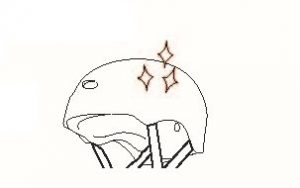 2. Install the plastic mount onto the left side of your helmet, just above the ear pad.
3. Mount the waterproof case into the plastic mount. Make sure both sides of the casing is securely into the mount.
4. Install the snow helmet speakers into the left and right pocket in your snow helmet.  Tuck the strap inside the back of the helmet.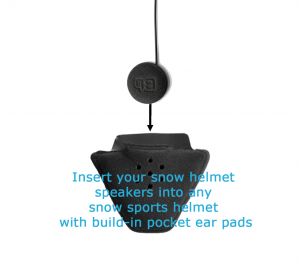 5. Take the microphone and clip it to your helmet strap or jacket.
6. Plug the 3.5mm jack into the unit and securely fasten. Make sure the cable is tight and secure. Failure to do so will cause water intrusion into the casing. Any water damage to the unit within the casing is not covered under warranty.
7.  Make sure after each use that your case is secure and sealed.