Firmware Update for Advance Unit
2022 New Firmware – Valid for any Advance Units purchased before May 2022.  If you purchased your units from BbTALKIN USA after May 31, 2022, you will already have the new firmware.
NEW FEATURE: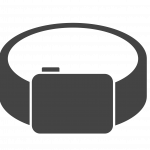 Pair with Apple Watch or Garmin Watch
** Older version of your Apple Watch or Garmin Watch may not be compatible
---
Below are the instructions on how to update your Advance Unit with the latest firmware.  This is only for the Advance Unit (grey units).  This is not valid for any earlier Main or Master Unit (black units) model.  To make sure you have the Advance Unit, see the picture below of what the Advance Unit looks like: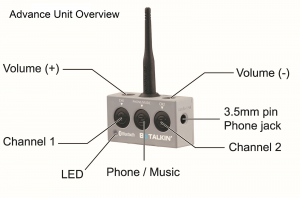 ---
All Firmware updates must be completed on a PC using Windows Versions 7, 8 or 10 only. 
Step 1:
Disable your PC's Bluetooth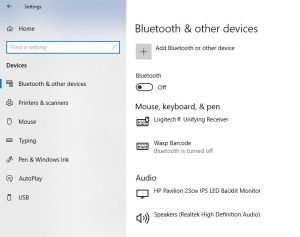 Step 2:
Download the Update Wizard Set Up File: Latest Version = dfuWizardSetupv1.7.0
IMPORTANT: 
If you have installed any previous version of the WIZARD, please uninstall it. Then download and install the latest version 1.7
(We recommend saving this to your Desktop for easy access.)
Once the file is downloaded, you need to unzip the file.  To unzip:
Right click on the file
Select Send To – Compressed (zipped) folder
Once your zipped folder is created, double click on the folder and you will find the file BA109.dfu.
Copy and Paste this file to your Desktop. (Do not create shortcut, copy the actual file.)
Step 4:
Double click on the Update Wizard to open.  You will see the below window open.
Once open, connect your Advance Unit to the computer via USB charging cable.
Press and hold the volume (+) and volume (-) button at the same time on your Advance Unit until the LED light flashes red and blue.
Once the red and blue light are flashes, select NEXT.
Step 5:
Your connection type should already be selected as "Universal Serial Bus (USB).
Select NEXT
Step 6:
 Browse and select the BA109.dfu file you unzipped on your Desktop.
Select NEXT
Step 7:
You will be notified when your unit is ready to update.
Select NEXT
Step 8:
You will see your update in progress.
Once your update is complete, you will see the below screen.
Select FINISH.
Your Advance Unit is now updated and you can unplug it from your computer.
NOTE:  After the firmware update, the units still remain paired to the units they were already paired to.  You do not have to go through the reset process.